June was born on the summer solstice, and is a real mid-summer girl. Hair shining like the sun, eyes as green as the summer meadow.
As a summer girl, she wanted to have a light cotton dress, and a straw hat.
Her dress is made with embroidered vintage fabric, and decorated with antique laces, I brought from Venice this spring.
I knitted a short sleeved mint colored cotton-linen mix cardigan. I am so proud of my knitting skills getting better with each new project. It still takes me ages to finish a cardigan of this size!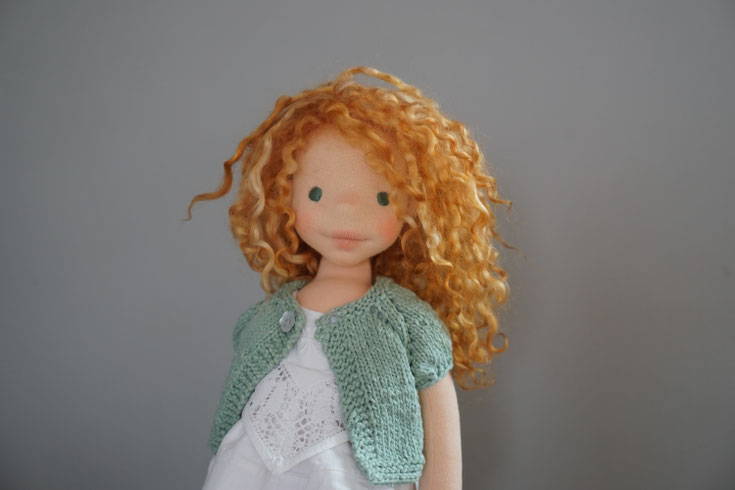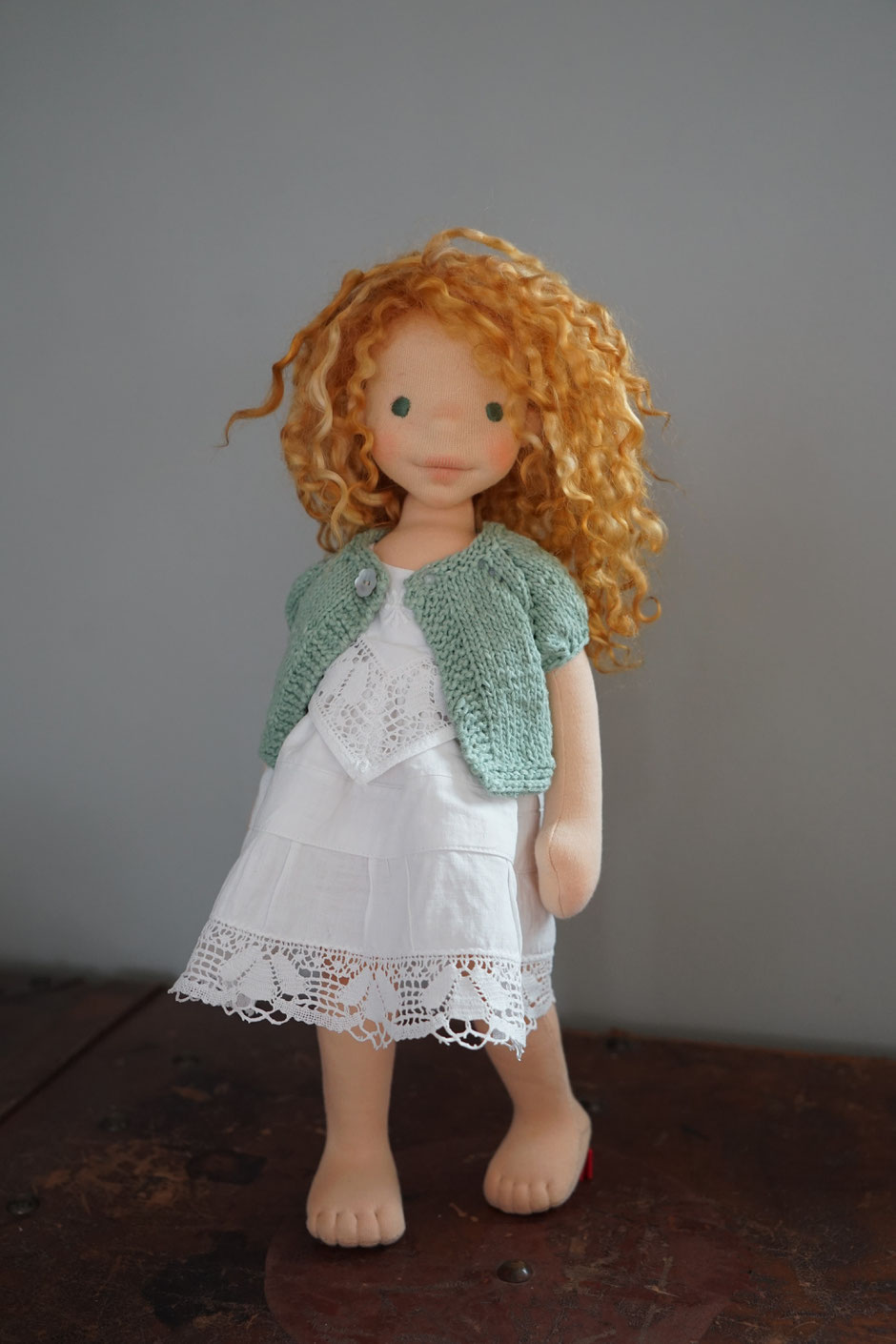 I added some Liberty details, like the band on her straw hat, as well as the lining of her leather shoes. This colorful floral patterned fabric is one of my favorite Liberty fabrics and adds a little playful contrast to June's plain white dress.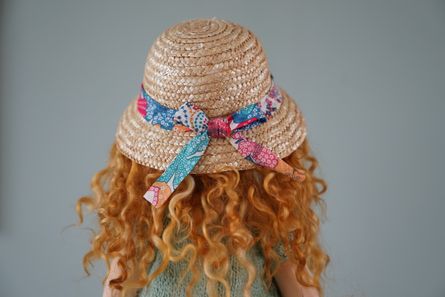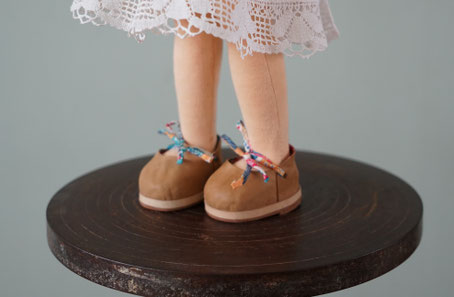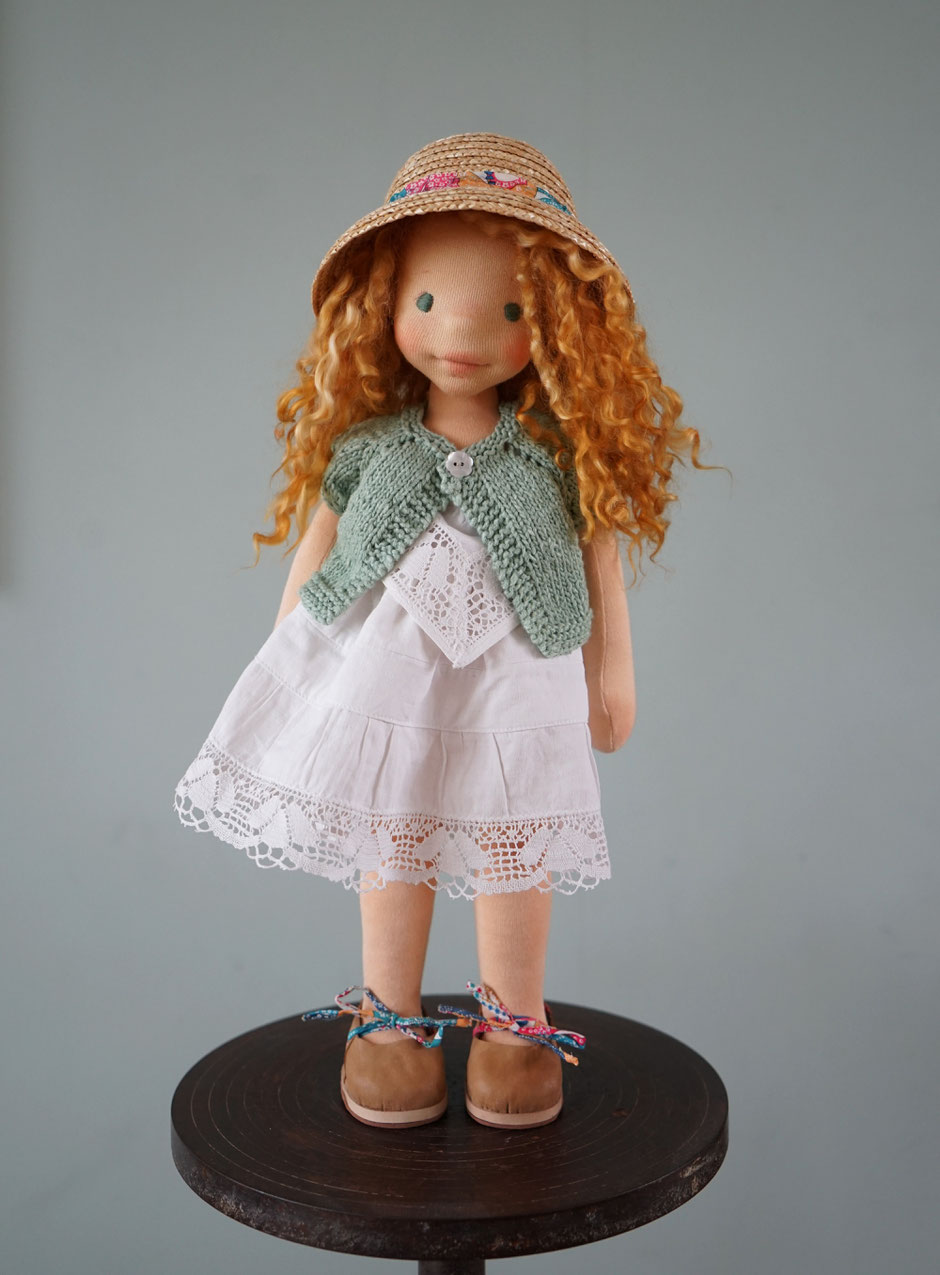 June is a 45 cm /17,5" tall fully movable girl. She can sit and stand freely. With a little patience, you can balance her into different poses to take beautiful pictures.
Due to the armature within, she can rotate her head towards any direction, while she can bend her neck. Her arms are hand sewn to the shoulders. Her legs and ankles are bendable. Her legs are attached with special joints to the hips.
Her skin is made with organic doll making fabric in a sun-kissed tone. She is completely needle felted with organic wool.
She has tiny ears, a shy smile on her cute lips. And tiny toes, which will be tickled by the warm sand during long evening walks at the sea shore!
Looking at how this summer dress turned out, I am convinced that those unique, precious, antique Venetian laces are invested well. :)
She is now looking for a new loving home.
June costs 870 Euros, plus shipping.
If you think June is meant to live with you, please contact me for more information: loulabee@gmx.de


Please note: All my dolls are for adult collectors and not suitable for small children.