Oh, oh, oh! Finally made it, just before March ends!
It has been very silent on my side, since I declared that my March girl Mathilde is soon to be finished. Unfortunately, I got four viral infections, just one after the other, crowned with Corona at the end. 4 weeks of bed time, with two days of feeling a little healthy between every week! 
With the spring blossoms, I am also awakening once again. :)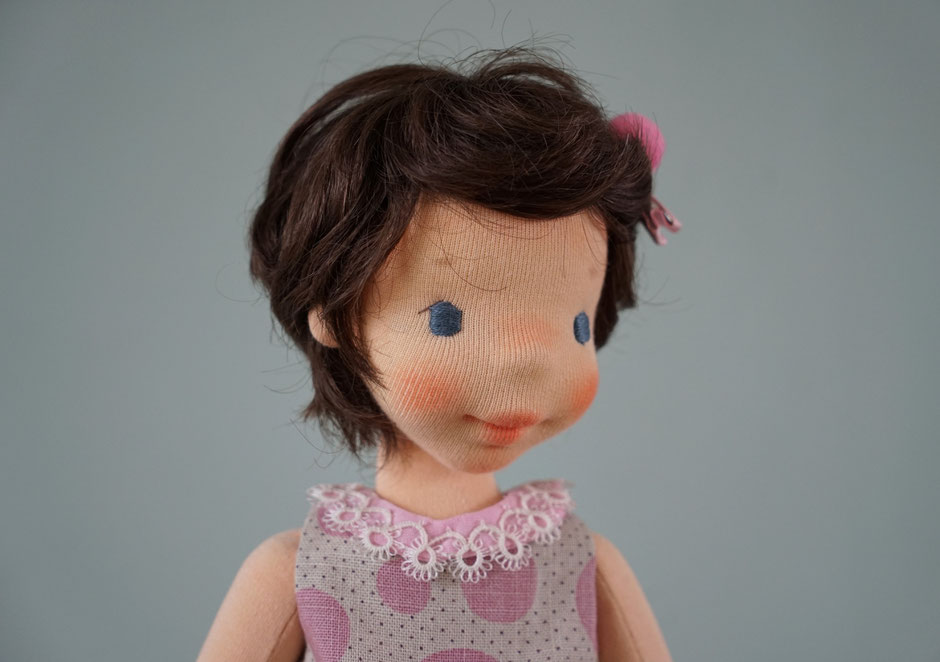 In the last couple of days, I finished Mathilde's clothes.
She is a kind of reincarnation of Aubrey Hepburn in a doll body. Thus we decided her style should be a little 50s too.
She is a mixture of Holly and Sabrina. I sometimes hear her whispering "la vie en rose", sometimes we are planning to take our "Breakfast at Tiffany's". In any case, it is so much fun to spend time with Mathilde. Her humor and zest is well hidden behind her calm smile, but you can see them in her eyes.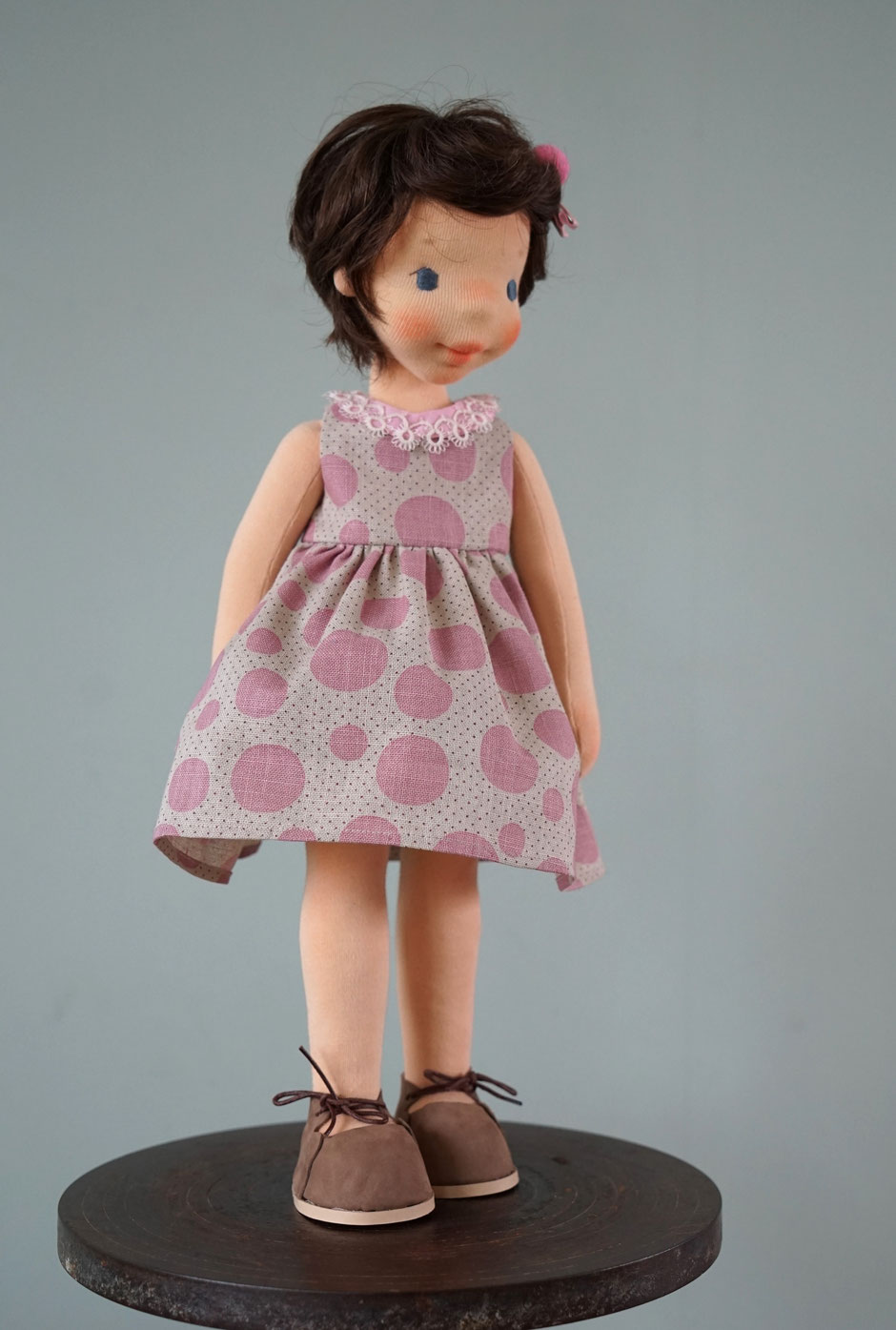 She wears a beautiful dress made with Japanese linen in pink and creme tones.
I made a collar, which is not attached to the dress, so that can be combined with other clothing. The beautiful lace on this collar is as old as I am now. My mom made it, as well as many other treasures, as she was pregnant with me. She said, she always knew I would be a girl, thus spent most of her pregnancy time, preparing my dowry. This lace is made with a very special technique, with needles. As I got married with 40 at the end, I didn't get my dowry. My mom claimed, they are now out of fashion. To be honest, she was literally scared, I would cut all those treasures to make doll clothes out of them. :))
At the end, she always has the right gut feeling. I did cut this little piece to use for Mathilde's collar. :)
For chilly summer days, she has a light and soft mohair sweater.
The leather shoes are made by me in a color fitting to her dresses.
She also has a pair of socks and underwear.
She has a two piece jersey summer pajamas, with floral design.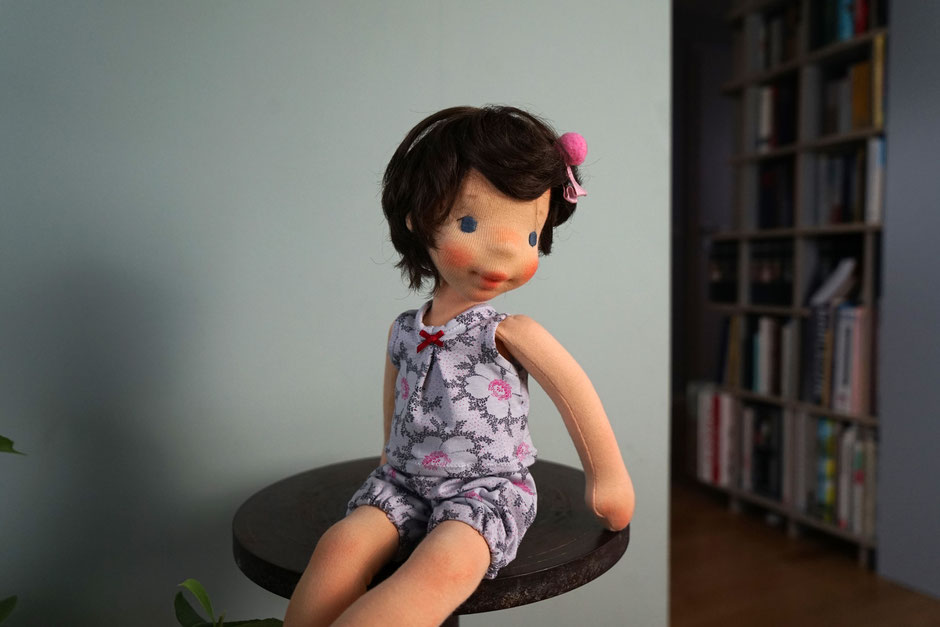 Mathilde is 44 cm /17" tall, fully movable, free standing doll. Her beautiful face and complete body are needle felted. Due to the armature within (which I covered with wool, layer by layer, hours and hours, with a needle in the hand), she can move her head in any directions. She can bend her knees and ankles. Her legs are attached with special joints to the body, which combined with the armature, give her more stability and motion. She can stand and sit without support. With a little patience you can put her into different poses and take pictures.
She has short, dark brown hair made with mohair wefts. Her blue eyes are embroidered. Her skin is made with organic doll making jersey in a sun kissed tone.
Mathilde's adoption fees are 850 Euros plus shipping. If you'd make the payment through Paypal, %5 fees apply to the total sum.
Update: Mathilde has found a loving home.
Thank you very much for your love and support!