As the days of February are flying by, we reached nearly the middle of the month. Day of the lovers is coming. And guess what, I have a very sweet young girl here. Fiona with her red locks, a little flame, just like her temperament. 
I left her only a couple of minutes in my working room, and look how I caught her! It is not even St. Valentine's yet, but she said all days in February are for the lovers.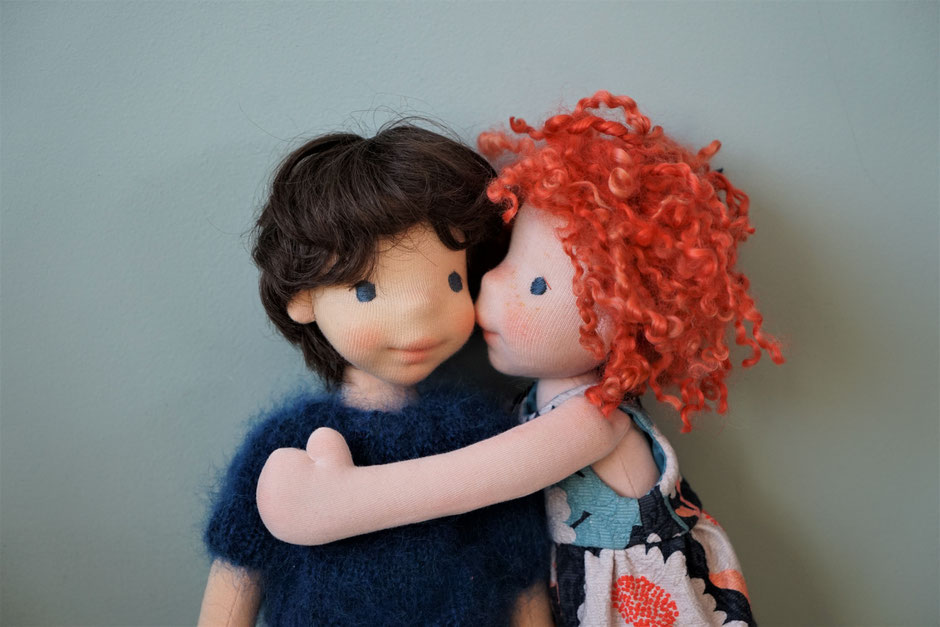 Fiona is a fully movable doll. She can rotate her head to all directions, her legs and arms are bendable, due to an armature which I covered layer by layer with wool. Hours of needle felting helped me to sculpt her pretty face, body and limbs...
Her arms and legs are attached with hand stitches to the torso. She can sit and stand with support. Although she is not made to stand freely, with a little patience and balancing, she can also stand without support.
She is 44 cm / 17 inches tall, like her older sisters Kate and Jane.
Her adorable wild hair is made with teeswater locks. She has a fair skin, and freckles on her face and on her shoulders. Her eyes are embroidered in gray blue color.
She wears an adorable dress, in colors fitting to her hair and eyes. Her undergarments are made with Japanese floral patterned fabric (white in white). She also has a little hand knitted woolen dress. I made for Fiona, a pair of leather boots. She has her own way of tying her shoelaces. I heard this is very fashionable among preteens. :)
Fiona is now available for adoption and cannot wait to meet her new family.
She costs 835 Euros, plus shipping costs (tracked and insured). If you wish to use PayPal %5 fees apply to the total sum.
Payment plans are possible if needed.
I will need couple of days to say good by and make her ready for her travel.
If you wish to give Fiona a loving home please contact me at loulabee@gmx.de
Update: Fiona found a loving home!
Thank you for your love and support!