I have been working for couple of months to make a new development on my dolls. My dolls are already movable for a while now. But I wanted to make them move more naturally. It is not very easy, as the materials on the market have their limits. So, I went to the man of my life for help. 😊 There are many sayings about "the women behind the successful men", but it is well forgotten that there are some "loving men behind crazy creative women" too. I am grateful to have one in my life. My husband is a mechanical engineer. He mostly cannot relate to my passion about doll making, or how and why an adult person finds dolls interesting. Yet he doesn't need to understand or share my passion to respect it and support me. Every then and when, I go to him for advice. Especially considering attaching the body parts together. It is his job, you know, attaching pieces together 😊
This time again, I showed him my doll parts and told him what I wanted and what I couldn't due to the lack of material. He spent several days on his computer designing joints for my dolls. We tried couple of different joints until I was satisfied (He would still work on them to make them better though 😊 ) So there is real high-tech hidden in this new doll 😊
Mia, the girl I made with these joints is (nearly) finished. She still needs her clothes.  I had to pause working on her, because I had a new project "Hansel and Gretel" which had to be finished till mid-September. I already told you their story on my last blog article. So let me tell you more about Mia now.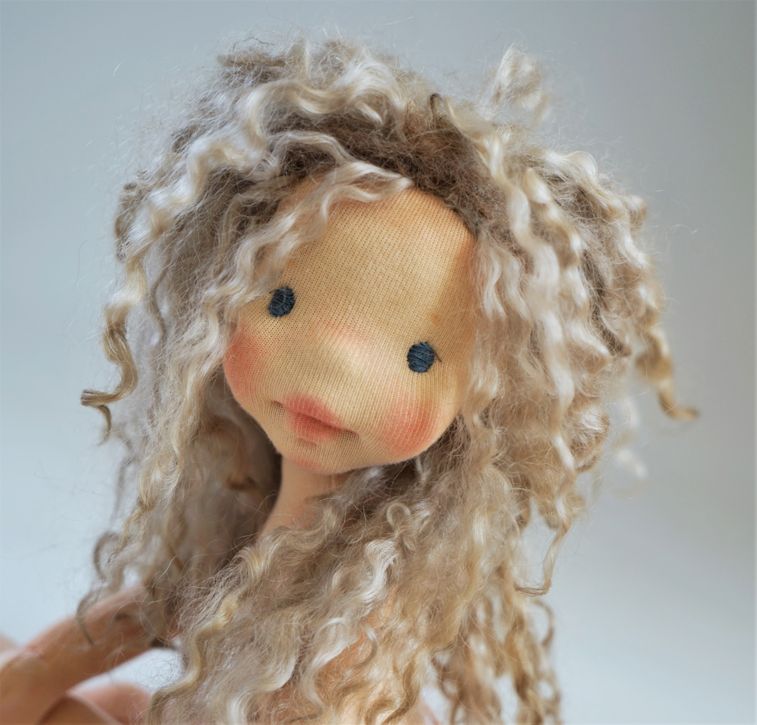 She is a little taller than my other dolls, app. 16 inches. She can rotate her head and bend her neck. She can twist her body. So, when she looks back it is not only her head turning but also her complete spine! She can also bend her torso forwards or backwards because of the same construction. It makes her pose very naturally. This was the first big change I made and took me a lot of time. But worth every bit of it.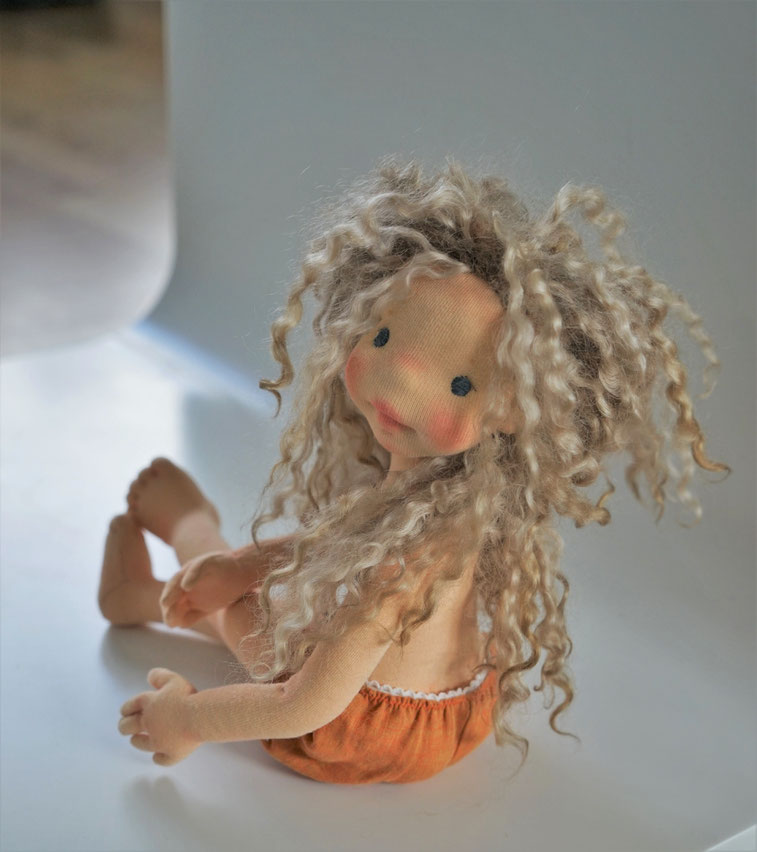 Secondly her arms and legs are jointed in a way that she can move them with a circular movement. The movement resembles a lot to natural movement of human joints (thank to my husband's hours of work). She can do splits like a ballerina or sit like an experienced yogi!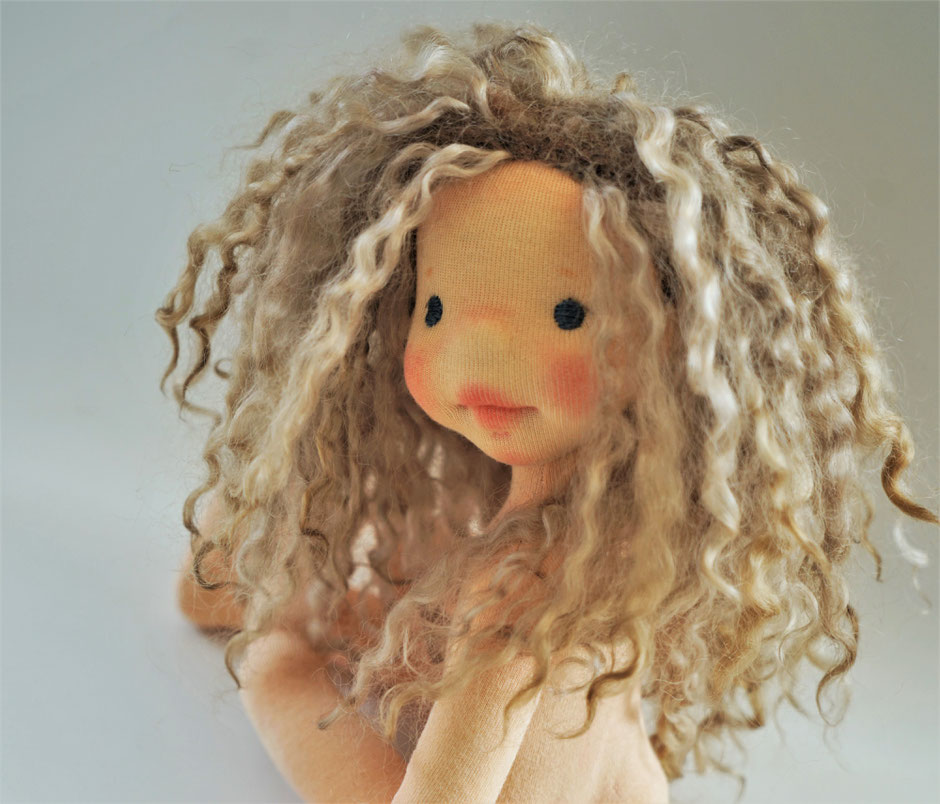 After putting so much naturalism on her body, I decided to make her fingers and toes too. Her hands are needle felted and each finger can be moved separately. Her ankles are also bendable so that she can stretch her feet. She can stand with a little bit balancing and patience.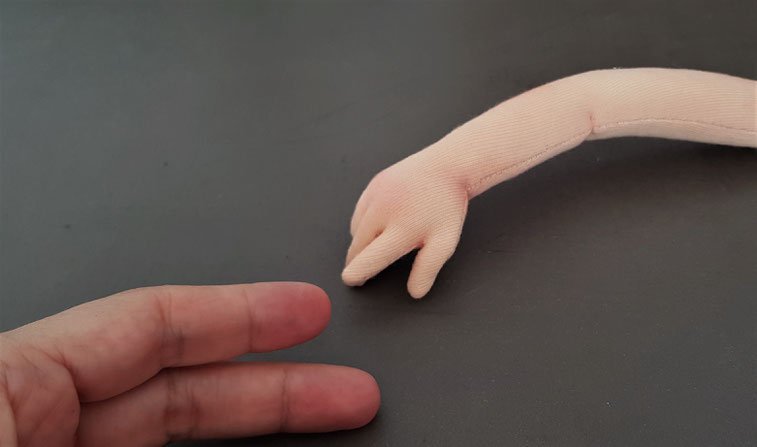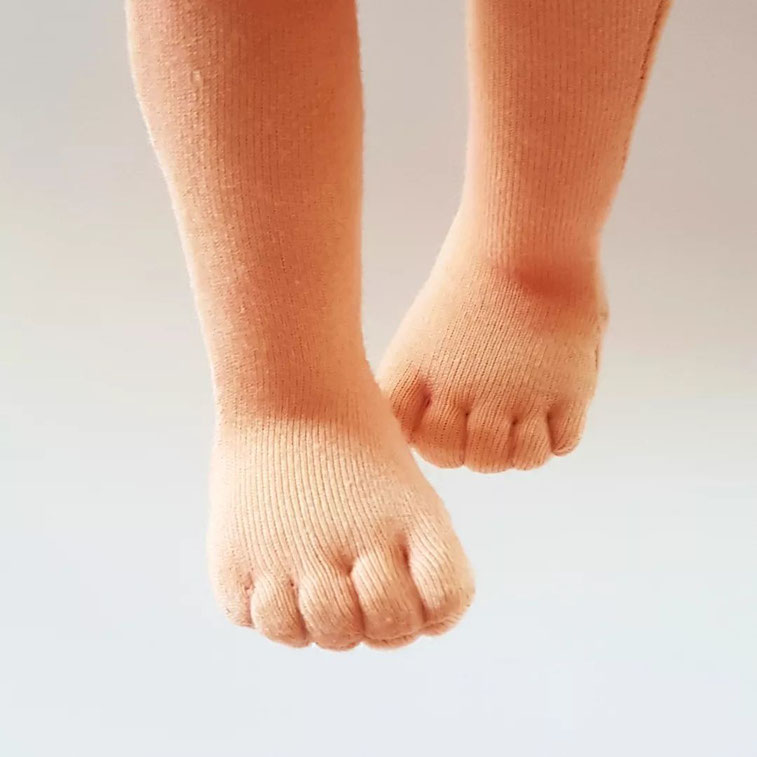 I know there is no perfection. And I know aiming at perfection is the killer of any joy. And I swear I am humble enough to know that nothing I make is perfect. But… it is so satisfying to make a little, tiny step towards the realization of that wish of getting better with each doll.
Mia is beautiful yet definitely not perfect. I will most probably make some changes on the next doll to make it better. And that will be a lot of suffering combined with a lot of insecurities again, but that's what makes my heart beats. I love challenging myself and trying new things.
As you might have recognized she is still naked, my dear Mia. I must go and finish her clothing. As soon as she is dressed up and I made beautiful pictures, I'll show her once again, in my next blog entry.
Until then, wish you beautiful doll full days.