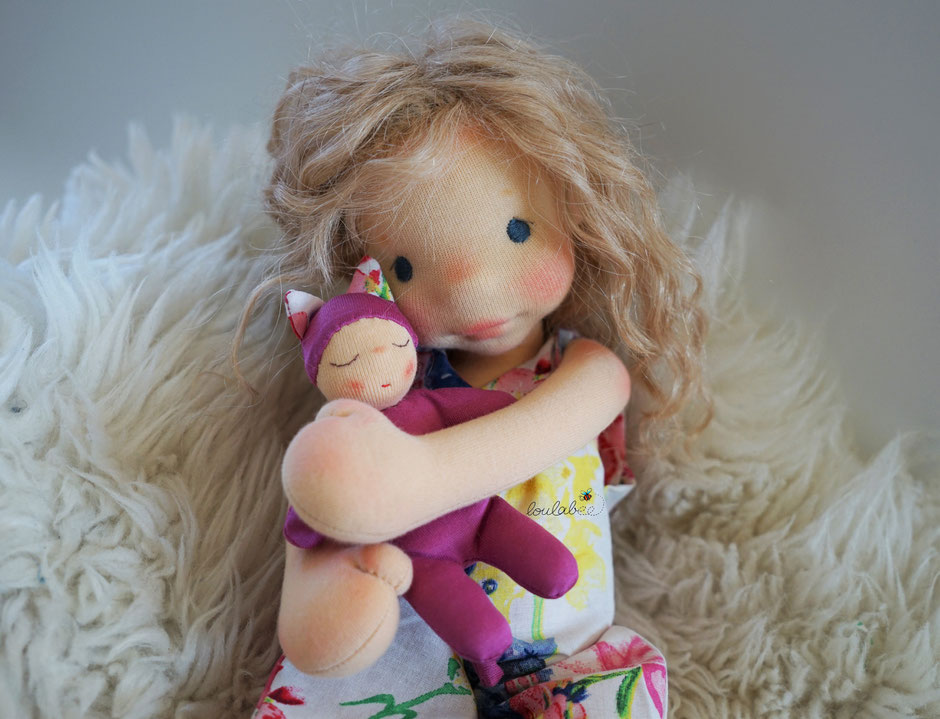 Miara is the oldest sister of the three kids living in my atelier at the moment. She and her siblings, Chiara and Milan, are made with my pattern for fully movable, free standing dolls.
Miara is 14" /35 cm tall. Completely needle sculpted with pure new wool. Due to the armature within, she can move her head and limbs fully. Her skin is made with organic doll making fabric in a sun kissed tone. Her beautiful blue eyes are embroidered. Her skin is blushed with bees wax crayon. She has beautiful blond hair made with mohair locks.
She comes with two sets of clothing: A beautiful cotton overall with spring flowers print, a blue linen dress with embroidery (again some more spring flowers), a hand knitted light and soft mohair cardigan, mohair socks and a pair of blue leather shoes.
She is a delicate flower bringing the spring with all of its blooms to your house and warm your heart. 
Miara will be listed on the 9-10th April Sale  for Ukrainians in need.
Organised by @winterludes with dolls by @mumanddotdolls @figandme @littlejennywrendolls @loulabeedolls @northcoastdolls @petitgosset at The Doll Collective event!
How does it function?:  I will, as all the doll makers listed above, will be donating my doll for this event. If you wish to bring Miara home, you need to donate the amount of the listing directly to Red Cross and send me the proof of donation per Mail, as well as your address. I will send you a separate invoice for the exact shipping costs, which you are kindly asked to pay to my paypal account. 

PS: There is also a short video here on my Facebook page showing her moving.