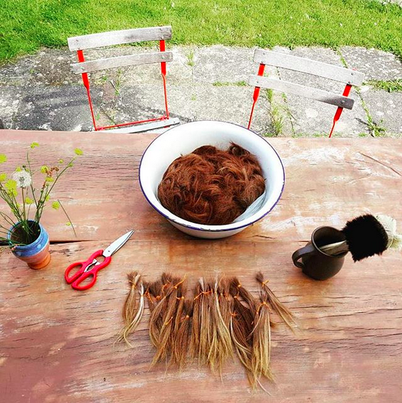 I have been on holidays the last couple of weeks. Spending time on the Aegean coast, enjoying the beauties of the region.
On one of the days as we were traveling, I saw a shepherd with his goats on the mountains near by the coast. It was already warm, the artichokes were blooming, the crickets were singing, the air full with the intense smell of thyme and oregano. And in between the bells of the goats were to hear. This is holiday for me, with all those scents, voices and beautiful views over the sea.
We stopped as I saw a group of goats with long hair and wanted to ask the Shepard if and when he cuts the hair.
He invited us for a lunch. He had just cooked goulash in a simple pot on a campfire. It was so tasty that I asked him the recipe. He said, it is goats meat with potatoes and carrots and a bit of salt. All other tastes are the herbs the goats are eating the whole day.
A week later I had three bags full with goats hair. They smell after goat but mostly like thyme.
Their natural colors are so beautiful and vibrant that they don't need to be dyed. I only have to wash them with a light shampoo, and would hope the smell of the Aegean herbs would not descent. More natural than this would not be possible to find I guess.
First of all I have to separate them into bundles and it will surely takes a looong while